BauCycle
Motivation
The German construction sector uses 600 million tons of mineral construction raw materials annually. As just 81 million tons of construction waste are recycled and used as building materials, only 5 percent of construction waste is attributed to high-quality products in the construction industry. The majority of utilised mineral construction materials are produced with primary raw materials.
The finite nature of natural resources and the scarcity of landfill space are growing challenges for resource management, which cannot be solved by current approaches of construction waste recycling technology.
For this purpose there is an increasing emphasis on sustainable building in the construction sector. Hence a research consortium comprising various project partners was established forcing the challenges of resource conservation, reuse of building materials and a high-quality recycling of construction material. Therefore the project »MAVO BauCycle« was initiated and is encouraged by internal programs of the Fraunhofer-Gesellschaft since 2016.
The research consortium of »MAVO BauCycle« consists of:
Aim of »MAVO BauCycle«
The aim of MAVO BauCycle comprises the sorting and processing of demolition materials as well as the production of recycled building material, which can be attributed to the original construction loop. The purpose is to reduce the demand of primary raw material, enable sustainable construction and make the scarcity of landfill space more manageable.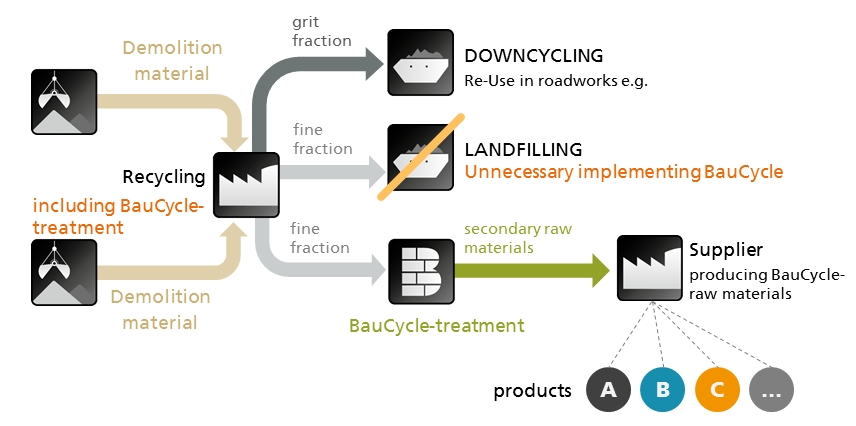 "MAVO BauCycle" as a solution approach
The procedure consists of three process steps. It starts with the preparation of demolition materials. They are sorted through a highly frequented detection procedure, which is based on Optical Computing. A special focus is set on the inserted optical filter allowing a high selectivity in sorting and the ability to consider various occurring influences. That followed, the recycled material is analysed and certified according to certain standards to generate material of specified and consistent quality. At the outcome of the certification, the resulting material can be used for new construction projects. This procedure ensures an efficient allocation of resulting demolition materials.